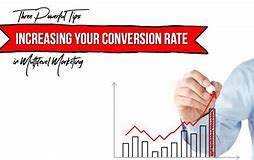 Proven Strategies to Lift your Conversion Rate
Achieve Your Dreams, Perth's pre-eminent business coaching service, specialising in lead generation strategies to increase sales, customers and clients and give you, the business owner, greater success and control over your business, presents another insight into Business Coaching.
Your conversion rate is the number of successful conversions you have from your leads, and is almost always expressed as a percentage. Most small businesses would have a conversion rate of between 40% and 75%. Experience, know how and confidence appears to be factors to increase or lift it, and depending on your average sale can make a significant difference to your annual sales. So, for example if you get 20 lead per month and your conversion rate is 40% and you can lift it to 45% and your average sales is $50 this can mean 20 x .45 x 50 x12 = $5400, compared to your original conversion rate of $4800 – that's $600 per year in sales, or 12 extra customers, who have the ability to refer more customers and hence increase your annual sales even further. If you don't know your conversion rate, it might be worth your while to work it out.
Before we start on this journey, it's wise to note the quality of your leads will often be a determining factor, so assuming you have appealed to your target market. Every business owner works hard to get leads, but many miss opportunities to convert these leads into sales; here are a few proven strategies to accomplish that:
If you have a retail shop, acknowledge the customer at the earliest opportunity with a warm friendly smile. If you are "busy" on the phone, tidying stock or doing something else – stop as soon as you can – pay the customer some attention. Service is what is lacking in the large chains today. If you are finishing a sale – acknowledge the customer and establish rapport as soon as possible – find things in common – try to match the customer in a subtle way and don't rush the customer, but ask what they are looking for, and find out as much as you can about their needs.
Listening here is very important – you are trying to match the customer's needs with what you have to offer. Find out when they intend to buy, how long they have been looking, why they visited your shop, and their intended budget.
Serve them as though they are royalty – this is one of your main advantages over the large chains. Make sure you make their buying experience the best possible. Even if you can't satisfy the customers' needs from your own shop, don't be afraid to refer them – they will remember you and how you assisted them.
Sell on value not on price – leave that to the discounters. Fully explain the value you can offer – extended warranties, refund policy, ordering in specific items – whatever you can do that different to your competitors.
If you have staff, ensure they are trained and you, the owner, lead by example
Make sure you get their contact details and stay in touch – ask them to join your mailing list
If you are a service business where the customer comes to you, follow the above procedure.
If not, follow these strategies:
Contact the customer at the first opportunity – you can't get a client without a conversation.
If it's an email enquiry, reply to their enquiry promptly and request to speak to them – it's hard to work out what someone really needs via email – meet in person, if possible, otherwise use the phone or use an internet program like Skype or Zoom.
When you have the conversation, follow the above procedure
Find out who else is involved – how and when the buying decision is made
Ask for time to do research, especially for potentially large orders
Make a proposal offering the greatest value to the client
Handle objections
Hopefully you will now have some idea about how to calculate and lift your conversion rate.
If you know of anyone who is struggling for sales / income send them a link to this blog, or request they make an immediate appointment for their FREE initial consultation. Don't let them perish – it's a very long road back! Thanks for reading this blog, why not subscribe to get it send directly to your inbox weekly?
Don't worry about cost – all our services come with 100% money back guarantee and can start from $97 +GST per month, plus a contingency fee of your increased sales (paid quarterly from collected sales only), and can be paid by bank transfer or Credit Card.
There is lots of information available about marketing and lead generation, so we will leave that for another time, but in the meantime check this https://ayd.net.au/the-importance-o…eneration-system/, and this https://ayd.net.au/can-you-use-10000-or-more-in-extra-income-this-year/ and there is an article titled 24 Ways To Defeat Competition go here to download
We would welcome approaches from other business bloggers to write a guest post, or be invited to write a guest post.