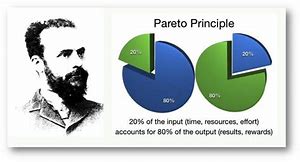 Achieve Your Dreams, Perth's pre-eminent business coaching service, specialising in lead generation strategies to increase sales, customers and clients and give you, the business owner, greater success and control over your business, presents another insight into Business Coaching.
Almost everyone has heard of the 80/20 rule, but few understand its use and value. This is a rule developed by Vilfredo Pareto and published in his book "Cours d'Économie Politique" Professé a l'Université de Lausanne. Vol. I, 1896; Vol. II, 1897. Vilfredo Pareto.
What is states is that 80% of the output results from 20% of the inputs, and this appears to be manifested everywhere in nature. Pareto started looking at wealth distribution in the USA and found that 80% of the wealth was owned by 20% of the population, but also found that 80% of his garden peas were produced by 20% of the seedlings. This is evidence to suggest that the ratio 80/20 is a minimum and in some cases can be as high as 99/1, but let's stick with the minimum.
So, for a business you can lay odds that 80% of the income will be produced by 20% of your customers, and 80% of your time will be spent placating the 20% of your customers / clients that cause the you the most headaches and keep you from more productive endeavours. These are not your best customers, who rarely cause you headaches – these are the customer who usually buy the least, expect exceptional personal service and almost demand you do the impossible. This 80/20 rule also applies to your product / services range.
Once your business is reasonably well established you can run a sales analysis to work out your best selling products / services, and your best customers (by sales value). Wouldn't you want more of these? Of course you would, so profile these customers, find out why they buy from you and see if you can get more of these customers. To profile a customer, use information about spending habits, when orders are placed, location of customer, how product is purchased, age, product, product classes, delivery options etc. This is extremely important and will increase your sales significantly, as you must already appeal to this type of customer.
This can raise the issue of what to do with the 80% of your 'non productive' customers. Again, 80% of these will be "OK", with the 20% being 'troublesome'. You can run an analysis of what they buy, and if you find commonality, you can delete those products from your range. If you have other staff, you might try getting another staff member to look after these customers, or possibly only taking orders from them via fax or email – it's best not to 'upset' these customers, but be firm about what you will and will not accept as customer behaviour, freeing your time up to look after and protect your best customers – make sure you spend time with your best customers and get to understand why they buy from you, and how you can assist them further (adding products / services, drop shipping etc.).
Look elsewhere in your business – you may find you buy 80% of your supplies from one supplier – maybe you could negotiate and better deal. Maybe one supplier is hard to deal with and take up far too much time in proportion to the orders you place – again it's best not to 'upset' these suppliers, but be firm about what you will and will not accept from your suppliers.
If you have staff, the same 80/20 rule may also apply – ensure that you address imbalances in employee productivity, or you may risk losing your best employees. Speak to any employee whose productivity is below par in an assertive way and offer more training, if that's the problem. If the problem persists, you may have to consider replacing that employee
As your business grows, you may find that 'bottlenecks' appear – the same 80/20 rule will apply – find the source of the bottleneck and try to clear it permanently.
Finally, use the same rule to ascertain and maintain your job satisfaction. If 80% of your time is spent with 'awkward' customers, you are unlikely to be happy, if the opposite is true, then you are likely to be much happier and get lots more job satisfaction. As the business owner you have the option to choose who you deal with, exercise that option whenever you can – take control of your business – it's yours!
Hopefully you will now have some idea about how the 80/20 rule operates within a small business. If you need assistance, please contact us immediately.
If you know of anyone who is struggling for sales / income send them a link to this blog, or request they make an immediate appointment for their FREE initial consultation. Don't let them perish – it's a very long road back! Thanks for reading this blog, why not subscribe to get it send directly to your inbox weekly?
Don't worry about cost – all our services come with 100% money back guarantee and can start from $97 +GST per month, plus a contingency fee of your increased sales (paid quarterly from collected sales only), and can be paid by bank transfer or Credit Card.
There is lots of information available about marketing and lead generation, so we will leave that for another time, but in the meantime check this https://ayd.net.au/the-importance-o…eneration-system/, and this https://ayd.net.au/can-you-use-10000-or-more-in-extra-income-this-year/ and there is an article titled 24 Ways To Defeat Competition go here to download
We would welcome approaches from other business bloggers to write a guest post, or be invited to write a guest post.